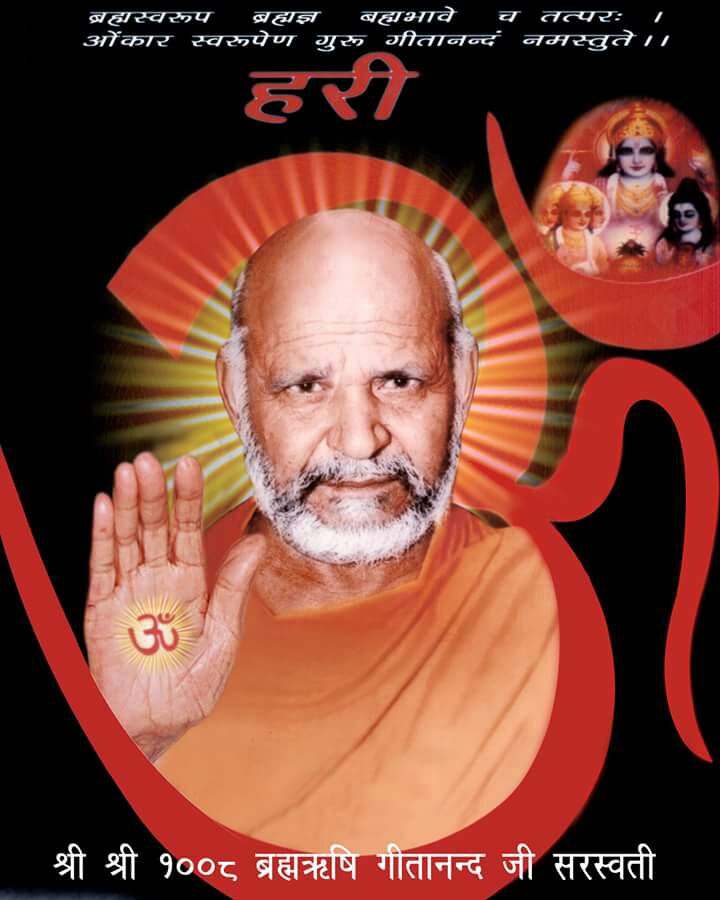 About Us
Brahmrishi Geetanand Ashram is a unique voluntary organization following the ideology of its founder, committed to promoting humanitarian values of peace, spirituality and environmental conservation in the society. It was originally established in the year 1918 in the deep forests of Naurangpur, District Gurgaon, Haryana (India) by Sage, Philosopher and Great Yogi Brahmrishi Geetanand Saraswati ji, who is an immortal embodiment of highest spiritual attainment, with the prime objective of spreading peace, love, happiness and spirituality in our society.
In the footsteps of our spiritual guide Brahmrishi Geetanand Saraswati ji, we are setting up a unique NGO which does not accept any donation in cash to provide self-less service to the society as envisaged originally by the founder.
Our Vision
Our vision is to ensure that everyone attains their right to self realization, spirituality, education, health and opportunity.
Our Mission
Our mission is to follow in the footsteps of the ancient saints and work for the cause of peace, spirituality, environmental harmony and make a positive difference in the life of the true seekers.
Through conservation of wildlife and their natural habitat our mission is to work for the welfare of all life forms and restore the balance of nature through free service.
About Brahmrishi Geetanand Ashram
Brahmrishi Geetanand Ashram, Naurangpur is the first ashram, established on 19th April 1918 (Chaitra Shukla, Navmi (Ram Navmi) Samvat 1975) by Brahmrishi Geetanand Saraswati. It is located in Haryana on the Gurgaon-Jaipur Highway and has amazing scenic beauty and is surrounded by Aravalli Hills. Under the instructions of Guru Ramanand (also known as Chimte Wale Baba), Brahmrishi Geetanand started his meditation and yog sadhana in early teenage at the jungles of Naurangpur. He even kept 'Maunvrata' and 'Pashupat Vrata' for over twelve years at Naurangpur Ashram doing yog and meditation. During this period, Brahmrishi Geetanand plunged himself into intensive inner spiritual silence. This was the time in which he withdrew himself completely from outer intellectual and literary activities only to open and explore by inner experience other dimensions of the supreme divine reality. Goddess Hemja (synonym of Goddess Parvati as per ancient holy books) bestowed him with a darshan and blessings/divine grace at the Naurangpur Ashram, since then this place is also known as Hemja. Lord Shiva also bestowed Brahmrishi Geetanand with a darshan and taught Brahm Yoga® in an invisible cave located at Madadev Parvat, Naurangpur.
A Cave (for meditating underground), dharamshala (room for visiting devotees/shishyas/sadhus), lord Shiva temple and a well was constructed by Brahmrishi Geetanand during early 1900 at (Hemja), Naurangpur Ashram. After Mahasamadhi of Gurudev, as per his instructions, all the disciple visit this holy place for meditation and yog sadhana (practice) regularly. The Ashram is being managed under guidance of Honorable Peethadhishwar of Brahmrishi Geetanand Sanyas Ashram (Baghol Muktidham – the main Ashram).
Ashram's Spiritual Activities
Brahmrishi Geetanand Saraswati's Ashram is a myriad-faced spiritualism in action. All the phases of ancient Indian Culture (Hinduism) can be seen and experienced within Ashrams and Temples.
Everyday Pujas, Aarti, Hawanas, Abhishekas, Bhajans and Kirtans are conducted in all of Ashrams established by Brahmrishi Geetanand Ji.
Pujas are performed both the times in the Ashrams/temples. Sadhaks also perform / conduct various mantra anushthans (spiritual chanting), Rudra Abhishekas, Sarvadev Puja, Lalita / Kali / Shiva / Vishnu / Surya Sahasranamavali Archana; Durga Puja, Satyanarayana Katha Puja, Sri Lakshmi Puja with Sri Suktam, Purush Suktam, Sarva-Devata Yagya, Navagraha Shanti Yagya, Gayatri / Mahamritunjaya Mantra Yagya, Special Yagya, Abhishekas and prayers for special purposes like world peace or during festivals like Ram Navmi, Guru Poornima, Sharad Poornima, Basant Panchmi, Mahashivaratri, Krishna Janmashtami, Navaratri at Ashram.
On Guru Poornima, the festival assumes a highly festive mood with recitation of the Guru Mantra and the conduction of ceremonies. All the Parampara Gurus are worshipped.
Leading Indian Acharyas, Pandits, Swamis and most holy men and women, have visited the Brahmrishi Geetanand Ashrams and its temples in the quest of divine inspiration. Their statements show how they were filled with admiration for the divine works ongoing in Brahmrishi Geetanand Ashram.
 The Lineage (Shishya Parampara) of Brahmrishi Geetanand Sanyasis and Disciples
The lineage of Brahmrishi Geetanand Sanyasis, their Guruparampara runs in following order:
Lord Shiva,
Lord Narayana & Lord Brahma
Vasishta Maharishi, Shakti Maharishi, Parashara Maharishi, Veda Vyasa, Sri Shuka Acharya, Sri Gaudapada Acharya, Sri Govinda Bhagavatpada
Sri Shankara Bhagavatpada (Aadi Shankaracharya)
Sri Nrisimha Bharati VIII (1817 – 1879) (http://www.sringeri.net/jagadgurus)
Brahmananda Saraswati, Govindananda Bharti (Shiv Puri Baba) (https://en.wikipedia.org/wiki/Govindananda_Bharati)
Parmanand (http://anandkebeechmain.com/maharajji.html)
(Brahmrishi Ramanand, Bhavanand Saraswati),
Brahmrishi Geetanand Saraswati (Goddess Hemja and Lord Shiva also bestowed advanced Yog Diksha directly to Brahmrishi Geetanand Saraswati)
(Swami Khushiyanand, Swami Chetnanand, Swami Tekanand, Sw.. Brahmanand, Sevanand, Mevanand, Balanand, Yoganand, Omananda, Shankerdev baba, Bhandari ji, Hari baba, Kunden baba, Rishi ji, Sohanlal ji (Shankaranand), Phoolbai etc.),
(Vivekanand, Rameshwaranand, Maheshanand, Manglanand)
(Madhwanand, Sukhanand, Brahmanand, Ashanand, Vishwanand, Gopalanand, Krishna etc.)
From Sri Sadgurudev Paramhamsa Brahmrishi Geetanand Saraswati sincere seekers of the Divine, no matter to which creed, caste, colour, race they belong, can obtain, if they earnestly so desire, Shuddhi and Nama-Karana, Upanayana Sacrament (Brahmchari Diksha), Mantra and Sanyasa-Diksha (only after qualifying Guru Pariksha), practice Yoga of Synthesis, belong to our lineage, become universal personalities of intense Devotion, divine Wisdom and experience the ultimate Truth, the goal of all great religions of the world. Off course.. it is absolutely FREE..
BIOGRAPHY OF THE GREAT YOGI BRAHMRISHI GEETANAND JI SARASWATI
 Brahmrishi Geetanand Saraswati, a God-centered Saint with highly spiritual powers and a Sage of Universal and Transcendental Knowledge
In the remote forests of Naurangpur, near a pond, sat a young, vibrant saint, meditating under the instructions of his Guru Brahmrishi Ramanad Maharaj, completely detached from the worldly pleasures. He was a Sage who had reached the peak of the ultimate and all-embracing truth. Out of it, he drew the Wisdom, the Purity and the Radiance of this life; in it he found the peace of his being, and the strength for his untiring service. He was essentially a flame of the spirit of renunciation, with no personal wishes, desires, plans, programs, or aims; totally depended on the Truth, he literally breathed and lived on it. He was the first and the last Lover of the God, who lived only for the Divine, who worked hard in order to awash the world with the pure and sacred Light of the Lord.
He was an ocean of serenity, shining brightly with vibrance. Absolutely unaware of what was going on in the outside world. The Naurangpur Forest was full of various violent wild animals. Even the wildest of the animals like tiger, leopard, lion, Wolf, bear, etc., who would come to the pond to drink water, would get astounded and hypnotized in the presence of this divine figure and divine peace.
Sometimes they would just lie in his lap & sometimes they used to strake him in an affectionate manner by brushing their back against his. But the Great Yogi would always be engrossed in his own world, away from the materialistic world. With the power of ahimsa (non-violence) within him, even the wildest of the wild animals would forgot their wildness, their very raw nature.
One evening, a passerby, stopped at the place where the Great Yogi was meditating and requested to yogi to return to the village as there were a lot of wild animals in the jungle. But yogi simply refused to leave the place. After returning home, the man sent his sons with the food material for the Young Yogi Saint. Consequently, the man's earnings at his shop doubled ! He, at once, understood that this miracle happened due to the blessings of Great Young Yogi. He started sending the fruits to the saint everyday. Just like a rising sun, gradually, the Great Yogi started touching the newfound heights of popularity.
At the time when 'Azaan ' was recited in the mosque, even the sound of 'Shankha ' could be heard. Then few of the kattarpanthi Muslims held a meeting to find out the origin of the sound of Shankha ?  Someone informed them about a young ' hindu saint ' living in the forest of Naurangpur, who probably blew the shankha. The head of those Muslims told him, "Go! Tell that hindu saint not to blow the shankha again, if he wants to live here." So, some people went to the Naurangpur jungle & saw that the Young Yogi Mahatma was in deep meditation. Mahatma then getting disturbed because of the noises of those people, rose from his meditation and asked, "O dear devotees! What brings you here?" The Muslims got furious and asked him, "Who blows the 'shankha' here ? There was nothing hidden from the know-all Great Yogi. He merely smiled & replied calmly, "This shankha is shankha of lord and makes sound on its own.  If you don't believe, come and see for yourself. Next day, the sound of shankha was heard yet again at the time of Azaan. Those Muslims got all the more furious & they went to Mahatma with sticks in their hands. They were shocked to see that the mahatma was deeply engrossed in his meditation and the sound from the shankha was coming on its own, which was lying in front of the Great Yogi. This incident left a deep impact on their minds. They all fell on the Mahatma's feet and asked for forgiveness. Mahatma ji explained them that there is only One God in this world, who is above all the religions. He is supreme power, known by various names and running this universe. After returning from the forest, those men told their leader all that had happened in the jungle and that though he was a 'hindu fakir', he was truly a Chhoti Khuda (God in disguise). And since that day, they all left their orthodox beliefs (kattrpantha) and became the devotees of the Young Yogi Mahatma.
Thus, even while staying in a remote forest, the popularity of Param Pujya Shri Guru Geetanand Maharaj started spreading like a forest fire. Peoples' wishes used to get fulfilled by merely glancing at him. Whosoever went to him with whatever wish in their mind, Guru Ji used to tell them, "Chant HARIOM HARIOM and all your wishes would get fulfilled." He knows in a wonderful way how to place himself in the soul of others and to align himself to the needs and mentalities of those seeking his grace, help and advice, so that he meets the scientist as a scientist, the artist as an artist, the seeker of the Truth as the spiritual light on his path to God-realization. Nobody ever leaves him without having obtained that type of mental nourishment which particularly suits his need.
Right from the time when this universe originated, the great God Param Pita Parmatma- Shri Hari, avtarit on this holy land India in the form of Great Saints and Mahapurush. He performed numerous miracles to guide his devotees and fulfilled their wishes. Hon'ble Shri Dattatriya, Kapil Muni ji, Rishab Dev Ji, Parshuram Ji, Shankracharya Ji, Gautam Budhh Ji, Geetanand Ji, Nanak Dev Ji, Sai Baba Ji, Baba Neevkarori Ji, Gorakh Nath Ji, Baba Surdas Ji, Sant Kabir Das Ji have been some of such grate souls.
That 'nirakar', 'nirvikar', 'niradhar', 'anadi', 'anant', 'avyakt' supremacy took birth as 'Geetanand' on the auspicious occasion of Ramnavmi for the welfare of the mankind.
Brahmrishi Geetanand was abundantly gifted with the realization of the Divine from his early childhood. In fact at the time of his birth a strong nimbus of light (hallow) was seen by everyone present, surrounding the head of the baby.
Brahmrishi Geetanand Saraswati is a born Sage, Mystic and Genius. Since the age of seven, his life has been flooded with numerous spiritual experiences of the omnipresent and omniscient God. He renounced this materialistic world at a very tender age and started searching for a 'Real Satguru'. Under the dictates of these experiences, he left his home city Village Birhera, Haryana in North India for Rishikesh at Himalayas, where the world-renowned Sage Brahmrishi Ramanand Ji (Chimte wale Baba) recognized in him an embodiment of the high spirit of renunciation, profound divine wisdom, purity of heart, a Bal Yogi, Bal Gyani, titling him as Geetanand and crowned him with Yog-Diksha at the age of eight / ten years at his Ashram located at Kablaba District Jhajjar, Haryana, India.
Under the instructions of Guru Ramanand Ji, he continued with his meditation and yog sadhna in the jungles of Naurangpur. He even kept 'Maunvrata' and 'Pashupat Vrata' for over 12 years and spent major part of his life in Himalayas, Vindhyachal, Aravallis and other forests practicing yog and meditation. During this period, Brahmrishi Geetanand plunged himself into an intensive inner spiritual silence. This was the time during which he withdrew himself completely from outer intellectual and literary activities only to realize through his inner experiences, the other dimensions of the supreme Divine Reality.
No one knew and no one could know of the inner life of this solitude seeking and in seclusion living ascetic, wherein he nurtured under the witnessing eyes of the Divine Spiritual Power, his intimate inner relations with the Infinite and the Eternal. His intense devotion gave a visible form to that Infinite and that Eternal bhavana-murti, the Divine Mother. Goddess Gayatri bestowed on him the Maha Vidya Mantra Diksha and he was initiated into the science of Ancient Yog and Vedic Yagya by an ancient Maha Yogi at Vashishtha Cave (Himalyas) and at an invisible cave at Naurangpur, which is invisible to all except to Brahmrishi Geetanand Ji. It is a phenomenon that needs to be explained to seeking aspirants after Truth-experience..
Be it in the Himalayas / Aravallis (Vindhyachal) or in the other cities of India, Brahmrishi Geetanand Saraswati lived his life in seclusion, solitude and silence, far removed from publicity and propaganda.
Some of devotees used to call him 'Bani' (as in vana, jungle) Wale Baba. He went to various holy places / forests / mountains, guiding people and establishing a number of 'ashrams' at various places.
Brahmrishi Geetanand got Sanyasa-Diksha from Swami Bhavanand Sarasvati, Disciple of Swami Parmanand Saraswati (Bhagwat Bhakti Ashram-Jind).
Param Pujya Guru Geetanand Saraswati's unique qualifications and qualities provide with the knowledge and know how that is becoming increasingly rare, since his journey includes years of yog sadhna and meditation in the Himalayas, Aravalli, Vindhyachal and in the places of learning all over India. What makes Brahmrishi Geetanand's method and teachings easy to understand is the simplicity of style that he offers. It intends to involve all of the activities under the heading of Brahm Yoga®..
Guru Geetanand Saraswati was a great Saint bestowed with great spiritual powers. He was a 'Purna Yogi' & a 'Trikaal Darshi' mahatma. He was inspired by 'Shrimad Bhagwat Geeta' and was the follower of Purshartha (Karma) and Parmartha (Paropkar – to help needy). No true devotee ever returned empty-handed from his door.
He was a friend, philosopher and guide to all who came in contact with him. His ethics are rooted in his knowledge of God as absolute Goodness, absolute Truth and absolute Love. His philanthropy rises from his experience of God as Love, and God as resident in all beings. His services flow from the fact of his life that all living beings humanity is his family. All his works are showering's of divine Grace for the welfare of mankind.
His words constitute a great literature. His Love rules the hearts of humans. His wisdom guides the footsteps of mankind towards Spirituality, Peace and Joy, towards Light and Illumination.
Wishes of all the devotees get fulfilled by the grace of Brahmrishi Geetanand Maharaj.  He spent his whole life to serve deprived people as well as animals and nature. He had researched deeply and experimented on the ancient vedic culture, spirituality & yog and obtained various siddhis (divine super spiritual powers) mentioned in various puranas (holy books of ancient India) to help and protect the needy. He is known as a great Yog Master. He gave special contribution in the establishment of humanity, ahimsa, spirituality and peace all around the world. He has written many books to show divine path for the upliftment of community and make their life peaceful, delightful, and divine. With the inspiration of Guru Maharaj and request of devotees some of the books have been compiled and republished under the supervision of disciples of Brahmrishi Geetanand Saraswati. Interested individuals may get the books / literature after e-mailing your request at geetanandashram@gmail.com
Swami Khushiyanand Ji Saraswati, Swami Chetnanand Ji Saraswati, Swami Brahmmanand Ji, Swami Yoganand Ji, Swami Tekanand Ji, Swami Balanand Ji, Swami Omanand Ji, Swami Hariharand Ji, Swami Kundananand Ji, Swami Satyanand Ji, Bhandari Ji, Rishi Ji, Sohan Lal ji (Shankaranand) Ji, Swami Vivekanand Ji, Swami Maheshanand Ji, Swami Sukhanand Ji, Krishna and Ashanand Ji are the Disciples (Shishyas) of Brahmrishi Geetanand Saraswati.
One fine day he called upon his pupils and told them,
"If you want to be a true devotee of the Lord, you must also realize the evils of un-divine life. This will surely save you; and Repetition of the Lord's Names (Guru Mantra) will purify the mind. But along with this you must also practice vichara. When the mind entertains unholy thoughts, remember the consequences, viz. pain, disease and death. Also think of the advantages of leading a pure life. Remember the lives of saints/yogis and draw inspiration from them. Pray to God for more and more strength for bhakti. Read Ramayana, Bhagavat Gita. All that is beautiful, all that gives some pleasure, appears so because of the beautiful, blissful God who is behind them all. Real beauty, real joy can be seen only in God who eternally lives in your own heart."
"Every attempt to cultivate divine virtues, selflessness, straight-forwardness, courage, serenity, generosity, mercy and self-restraint, this, in reality is divine spiritual life or life in God. Always keep up a balanced mind in success and failures, censures and praise, honor and dishonor, gain and loss, heat and cold. Give up identification with the body, wife, children, relatives and all kinds of property and other materialistic elements. Identify yourself with the all-pervading immortal blissful Atman and rest peacefully in Brahma."
"Of all the creations of Lord, human alone can comprehend and love God and attain liberation. There is nothing in the universe that human cannot know. It is the love of knowledge for its own sake, not because it brings us food not because it enables us to practice a profession but love of truth for its own sake. That is the destiny and glory of man."
"All is God: God is all. This world is your best teacher or Guru. There is a lesson in each and every experience. Learn it and try to become wise. Every failure is a stepping stone of your faith in God. Every disease is a Karmic purgation. Every unpleasant incident is test of your inner spiritual strength."
 He said "The welfare of all humanity is my welfare. The happiness of the trees is my happiness. The peace of the birds is my peace. The prosperity of the world is my prosperity. Everything belongs to me. I live and labour for everything. I meditate for everyone. I meditate through all. All are dear to me. Every minute, thousands of packets of Love, thousands of gifts flow from my Consciousness to all beings."
"I have no desires, but only a few divine wishes, and they are the wishes for the health, peace, happiness, prosperity, spiritual progress and enlightenment of all souls.
 He further said "I am soon going to take Samadhi." The pupils got worried and asked him as to who will guide them in his absence ? He replied with utmost serenity, "I'll always be there at the Baghol Muktidham for the true devotees and will even give 'darshan' to a true devotee." He assured that everyone who is a true believer will keep getting my guidance and all their wishes will be fulfilled as always."
Showering his grace, divine peace & spirituality around the world, he took Mahasamadhi on 29 January 1971 at 5.15 pm.
The Samadhi Mandir of Guru Geetanand Maharaj attracts a huge number of devotees from all over the world whose wishes still get fulfilled by the divine presence and grace of Guru Geetanand Maharaj. Bhandara' (feast), yagya & satsang are held every year on four major occasions of Ramnavmi, Guru Purnima, Sharad Purnima & Basant Panchmi.